Boeing Pilots Play a Key Role in Development and Certification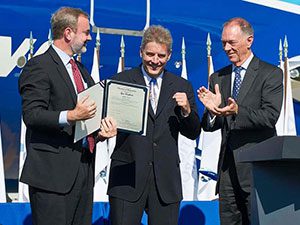 The chief pilot for a program, who is always both a pilot and an engineer and who serves as a member of the program leadership team, helps to develop and review the certification plan and is involved in many phases of the validation effort. In fact, the chief pilot and other flight test pilots are involved with the program from its earliest days.
The certification plan, which outlines the methodology for demonstrating compliance with all regulatory requirements, is among the first deliverables for a new program. It spells out what will be validated by analysis, by laboratory testing, by ground testing and by flight testing.
Well before the airplane ever flies, the chief pilot has thoroughly reviewed the form, function and fitness of many intricacies of the airplane ranging from the layout of the flight deck to the performance of systems and many details in between. The data created by the chief pilot is part of the documentation that becomes part of the certification submission.
Did you know?
Hundreds of hours are logged in flight simulators by a number of Boeing flight test pilots before first flight.
The chief pilot is among the leaders who must concur that an airplane is flightworthy before the company proceeds with a flight.
During the flight test program, flight test pilots, under the leadership of the chief pilot, perform all the flight test parameters spelled out in the certification plan.
The Boeing culture of safety is important to the company's pilots. They put their confidence in the women and men who design, build and support Boeing airplanes every time they step on board.
Flight testing is designed to take the airplane to its limits – well beyond what any airline pilot will ever experience. They fly the airplane farther than commercial routes and simulate multiple failures to ensure backup systems work.
If flight test results don't match expectations, which are documented in advance of the test based on analysis and laboratory testing, engineers work tirelessly to document the cause, determine if a change is needed and create a go-forward plan that ensures the delivered product is understood and meets all requirements­.
Certification of a new airplane type is not the end of pilots' involvement on the program. The chief pilot remains part of the program leadership team. Test pilots often help prepare airlines to accept delivery of a new airplane type, serve as ambassadors for the program and conduct demonstration flights held for the benefit of customers or media.
Defying Conventions: Capt. Jennifer Henderson's Pathway to the MAX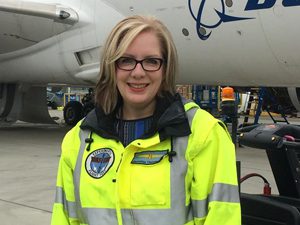 As the chief pilot for the 737, Capt. Jennifer Henderson is charged with overseeing the entire fleet, ensuring safe operations and field support. The responsibility is great, and she acknowledges the role is 'all encompassing.'
For Henderson, it's a role that's been a career in the making.
Henderson earned her Bachelor of Science degree in Aerospace Engineering from the University of Maryland, while simultaneously working as a cooperative education student at the Naval Air Warfare Center (NAWCAD). The arrangement allowed her to gain valuable real world experience while pursuing a career. At NAWCAD, she served as a flight test engineer, supporting numerous programs, including the F-14, H-60 and H-46.
She next graduated from the U.S. Naval Test Pilot School as an engineer, where she had the opportunity to fly over 30 different fixed and rotary wing aircraft, and served as the lead government flight test engineer for the UH-1Y Huey helicopter.
Soon after, Henderson joined the military and became a U.S. Air Force pilot, flying C-17 aircraft in support of Operation Iraqi Freedom and Operation Enduring Freedom.
"I had an unconventional background," she admitted. "Many test pilots have a military background before transitioning to test – I took a different pathway and became an engineer first and then a pilot, as I wanted a deeper understanding of 'the why'. I thought if I truly understood how things worked and how issues were fielded from an engineering perspective I could become a more natural pilot."
Henderson joined The Boeing Company in 2005 as a flight test director during the initial development of the 787 Dreamliner. She became a production test pilot in 2007; later became the 737 lead production pilot; and, next served as the engineering project pilot for the 787-10 Dreamliner and lead pilot for the Rolls-Royce Trent 1000 engine program. Most recently, she was lead test pilot for the 737 MAX-7 flight test program and assistant chief pilot for production for the 737 program.
"I've flown and tested many different aircraft, and have acquired a diverse skill set," she said. "With over 25 years of experience, I've gained a wealth of perspectives that have been brought to bear through my work at Boeing."
In her spare time, Henderson is actively involved with the Society of Experimental Test Pilots (SETP), an international organization of test pilots representing 32 member countries and a membership of over 2,400 pilots.
The organization seeks to promote air safety and contribute to aeronautical advancements, and Henderson was the first woman elected to its board of directors, a position she's held since 2015.
As a female pilot, she acknowledges there are lower percentages of women in the industry. "I'd love to change that and I am grateful to those who paved the way for me," she said.
When speaking to the next generation of test pilots and engineers, Henderson advises them to be unconventional. "Listen, pay attention and zone in," she said. "You never know the opportunities that will come up and where your path will take you."
Webb Steps into New Role as Chief Pilot for Boeing Commercial Airplanes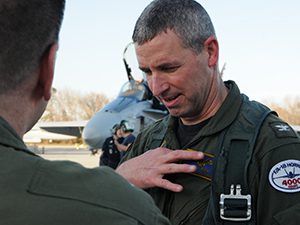 He didn't know it at the time, but Capt. Jim Webb was preparing for his new role as chief pilot for Boeing Commercial Airplanes even as a child. The lessons he learned from his father and his natural love of airplanes set him on a path toward flight, leadership and relationship building.
Growing up in Atlanta, Webb was in the shadow of what has become one of the world's busiest airports. Well before entering high school, he knew he wanted to fly. And, by the time he became a teenager, he knew his path toward that goal would take him to the Navy.
Webb earned a Bachelor of Science degree in mechanical engineering while attending Auburn University. From there he got a spot in flight school at Naval Air Station Pensacola. Subsequent transfers took him to Whiting Air Field and Naval Air Station in Meridian, Miss., where he received his wings in November 1988. He attended Navy Test Pilot School in 1995.
During his 26-year Navy career, Webb amassed more than 7,000 flight hours in 35 different aircraft. More than 4,000 of those hours were in the F/A-18 A through F models and included 662 carrier arrested landings. He studied at the Naval War College and earned a Master of Arts degree in national security and strategic studies.
A career at Boeing was a logical next step for Webb as he contemplated retirement from the Navy. In 2012 he retired as commanding officer at Naval Air Station Oceana in Virginia. He and his family relocated to the Puget Sound as he took on the role of production test pilot.
Webb continued his education earning a Master of Business Administration degree from the University of Washington's Foster School of business.  He was promoted to lead pilot for 737 and assistant chief production pilot. In March 2018, he became chief pilot for the 737.
Like all of Boeing's test pilots, Webb is qualified across a range of Boeing products including the 737, 767, 777, and 787 and is a qualified safety and photo chase pilot in the CT-133 aircraft.
Webb knows exactly what prepared him for both his Navy and Boeing careers.
"My father had such influence on me for integrity and quality work," he said. "He taught me to take the time to do it right the first time. He also showed me how important it was to maintain integrity with people. I carry those lessons into everything I do and they really shaped how I approach everything from work to my family to my hobbies."   He and his wife have prioritized those same values in raising their five children.
It's not surprising that integrity and quality are also his biggest priorities at work.
"The best part of my job, without a doubt, is the people," said Webb. I got to see the talent and determination that the Boeing team brings to every project. And I get to work with our customers and see how they continue to push us be better. As an industry, I can see how we are all linked in this pursuit of safety, efficiency and quality."
Webb thinks most people would be surprised at how broad the responsibilities are for a Boeing test pilot.
"What people don't know is how we integrate so many aspects of the organization. We have to be at the top of our game," he said.
"Of course the expectation is we know how to fly the airplanes and are experts in the systems. We also have to have an awareness of how the manufacturing system works, how the testing goes from beginning to end, the business aspects and the direct link between our customers and our products."
Here's more information about our ongoing efforts in working with customers, regulators, pilots and airlines around the world to improve flying for everyone.
Resources