Fresh ideas from the factory floor
Boeing technicians building a better rocket
October 10, 2019 in Space
It takes rocket science to design and develop a launch vehicle for human exploration missions to the Moon and Mars. It starts with a concept, but it takes skilled technicians to assemble the hardware and make crucial improvements as the rocket moves from design, to manufacturing, test, and final assembly of flight hardware.
Boeing technicians bring a variety of skills and backgrounds to the shop floor at NASA's Michoud Assembly Facility where they are assembling the core stage for NASA's Space Launch System (SLS) rocket. The 212-foot-core stage, the largest stage ever built, is critical for getting the SLS rocket and Orion spacecraft to space for the Artemis missions to the Moon, and beyond.
During SLS development, technicians have translated engineering drawings and instructions into the baseline system and processes that serve as the foundation for building all the core stages for future SLS rockets.
To build a core stage that will be an SLS mainstay for years to come, Boeing is training its workforce so lessons learned are shared among the team. New space systems technicians are working alongside experienced technicians from at Boeing sites across the country in Texas, Washington, Florida, and South Carolina to help make history- returning humans to the Moon and on to Mars.
Hundreds of technicians working with engineers offer innovative new ways to assemble, integrate, and test thousands of parts, and miles of cable, harnesses, sensors and wiring. The result is a faster build, a safer work environment, and a better quality rocket, say Boeing engineers.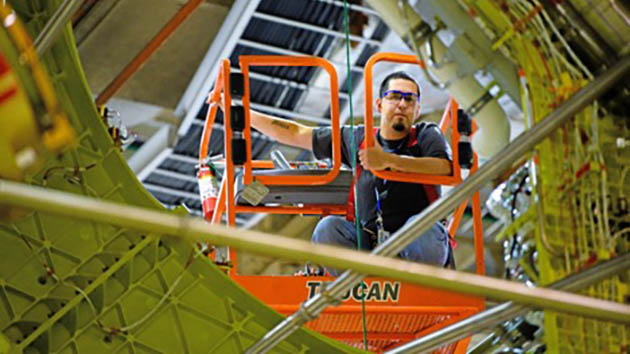 Lead technician Matt McClain spends his days climbing in and around the Space Launch System core stages, reconciling engineering drawings, schematics, and instructions with real-world bolt, bracket and harness installations. Boeing technicians are infusing the rocket assembly with innovative ideas for improvements every step of the way to make each core stage build better than the last.