Senior Air Force official calls Boeing a 'US icon'
Boeing-USAF team clears flight-test milestones
December 09, 2019 in Defense
The U.S. Air Force recently certified the KC-46A's transition into Initial Operational Test and Evaluation (IOT&E), which marks the next step in fielding the multi-role tanker. During IOT&E, the Air Force will evaluate the KC-46A's systems in numerous operational scenarios, a requirement prior to the aircraft being used operationally in combat.
In addition to the official start of IOT&E testing, KC-46A test aircraft at Edwards Air Force Base in California recently completed receiver certification with the F-22 Raptor and RC-135 Rivet Joint aircraft to increase the pool of certified receiver aircraft. Receiver certification testing continues in the coming weeks with the B-2 and B-1 bomber aircraft, among others.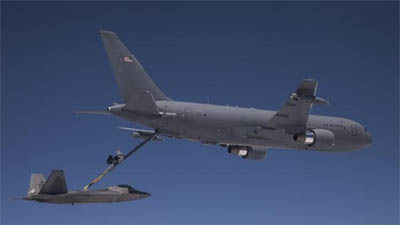 As the U.S. Air Force took delivery of its 23rd KC-46A Pegasus aircraft recently, the Air Force official who piloted the delivery flight spoke with employees about their role in bringing the tanker to the warfighter.
"Today is a pretty special day for me all the way around," Maj. Gen. Stephen Oliver, assistant deputy under secretary of the Air Force, International Affairs, said just before the jet departed from the Military Delivery Center in Seattle. "Boeing is a great company, a U.S. icon. We need it to be, we want it to be, and you are the key to that success."
Boeing delivered the first four tankers to McConnell Air Force Base in Wichita, Kansas, in January. Since then, the program has delivered more than 25 tankers.
Jamie Burgess, KC-46 vice president and program manager, echoed Oliver's sentiments. "Without you we would simply not be where we are today," he said. "Thanks for the hard work you put in day in and day out."
Tex Hannah, a KC-46 systems mechanic who attended the delivery event, expressed his pride in the aircraft he helped build.
"It is pretty awesome to see the end product going to the customer," he said. "The KC-46A opens up the warfighters' ability to do more on the war front than we have in the past."
Oliver stressed that the U.S. Air Force and its international partners quickly need the KC-46A and the capability it presents. His responsibilities include exercising administrative control for 154 U.S. Air Force military exchange personnel in 36 partner nations. He also assists in managing 470 cooperative research, development, test and evaluation agreements valued at $56 billion.
"I have a long history with this particular program. I started working requirements for what is now the KC-46 back in 2001," Oliver said. "We needed the airplane then, and we really need it now."
By Kymberly Vandlac