Ground-based Midcourse Defense makes big delivery
July 30, 2020 in Defense
The Ground-based Midcourse Defense (GMD) team completed two sizable deliveries this spring to the Fort Greely, Alaska, military installation on time and on contract, despite the potential for COVID-19-related delays.
Each delivery included four silos and silo interface vaults (SIVs) that will be emplaced into Missile Field 4 and used to house and maintain ground-based interceptors, which help defend the U.S. against long-range ballistic missiles.
Getting to the remote Fort Greely site is no simple task. Even for the savviest of travelers, it's an all-day event, often requiring multiple flights and a 90-minute drive from the airport to the base — and that's just to transport a person.
Now, think about what the transportation process might look like for Boeing to deliver four 135,000-pound (61,235-kilogram) GMD silos and four 144,000-pound (65,317-kilogram) SIVs from Oregon to Alaska.
For April's delivery, it was a journey of more than 12 days that was months in the making. Starting at Swan Island, Oregon, the silos and SIVs were taken by barge along the Columbia River to the Pacific Ocean, traversing the Inside Passage and finally arriving and offloading in Valdez, Alaska. The equipment was then trucked over two mountain passes to Fort Greely for delivery.
"We know the work we do on a daily basis is critical to U.S. national defense, and we understand that more than 300 million Americans are depending on Boeing and its suppliers to deliver a product that performs as designed. I'm proud to be a part of this mission," said Donnie Hudleston, GMD project lead for Ground Systems.
Five additional silos/SIVs will be delivered this Fall, with three more units expected to be delivered Spring of 2021.
The views expressed are those of Boeing and do not constitute an endorsement by the Missile Defense Agency (MDA).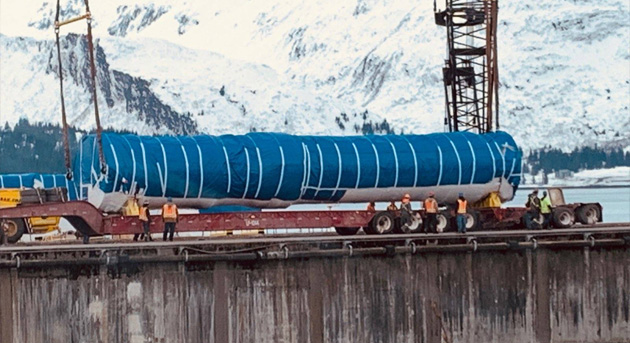 Silo and silo interface vaults are removed from the barge in Valdez, Alaska, and placed onto a truck for transport to Fort Greely, Alaska. This leg of the journey takes at least two days depending on springtime road construction and weather conditions.
Image Credit: Boeing