NASA recognizes 13 Boeing Space and Launch employees
Dedication to flight safety earns Starliner, Space Launch System, and International Space Station teammates honors.
October 25, 2022 in Space
Amanda Gaddy's imagination and heart have been focused skyward most of her life.
"When you're a child and you look up at the stars, you constantly wonder what's up there, how did it get there and why can't I touch it," Gaddy said.
She now helps astronauts "touch" the stars — safely. Working in program software quality, Gaddy ensures International Space Station (ISS) software is defect-free and of the highest quality. She also is one of several teammates recently honored for her work as a NASA Space Flight Awareness Honoree.
Michael Walker, the ISS quality manager who nominated her, says Gaddy's efforts during the COVID-19 pandemic to establish communication and coordination with her customer and software engineering team were especially notable.
NASA recognized 13 of Boeing's brightest stars with one of its highest praises — the Space Flight Awareness Honoree Award. Only first-level management and individual contributors who exemplify solid dedication to quality work and flight safety are considered.
"The work we do in support of NASA's Human Space Exploration programs with the Space Launch System rocket, Exploration Upper Stage, CST-100 Starliner and International Space Station are foundational to new discoveries and the broader space ecosystem," said Jim Chilton, senior vice president of Space and Launch. "Our success in these endeavors depends on people like these honorees, doing critical work every day to design and build the core capabilities of the future."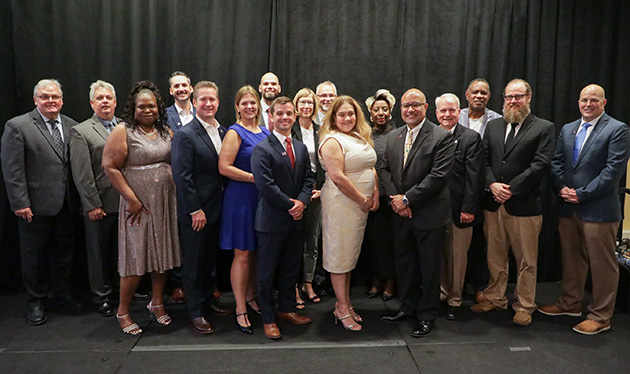 Four Boeing teammates from the CST-100 Starliner, four from the International Space Station and five from the Space Launch System were recognized during a ceremony in Orlando, Florida, in August. Many of the honorees said they were surprised yet honored by the award and described the whole experience as humbling.
Starliner honorees were recognized for their work in systems engineering, software testing, production and operations, as well as ensuring 100% mission success of Orbital Flight Test-2.
Starliner honorees
Ryan Kirker, Shane Peck, Tim Reith, Greg Ffolkes
Ryan Kirker, for example, was responsible for testing flight software coding on flight hardware in the Starliner factory at Kennedy Space Center in Florida. LeRoy Cain, deputy program manager, noted in his nomination of Kirker that he increased the reliability and efficiency of the software test processes, as well as the performance of the test team.
Equally as important as testing the hardware and software together is verifying and validating that the Starliner meets requirements before every flight, a critical part of gaining customer confidence in the system. Shane Peck led the architect development of the Boeing Verification and Validation Plan.
Mission success of Starliner's Orbital Flight Test-2 (OFT-2) was directly attributable to Tim Reith, another honoree, according to Boeing astronaut Chris Ferguson, who nominated him. Reith's performance in prioritizing and dispositioning technical issues as the spacecraft chief engineer led to Starliner's first docking with the International Space Station.
The Starliner soon will fly astronauts safely to and from the space station in two spacecraft crew modules, built by a team under Greg Ffolkes's supervision. Ffolkes uses his vast human spaceflight technical knowledge to advance and continuously improve Boeing's Starliner production processes and procedures.
"This award is an indication of the company's commitment to the continuation of human spaceflight," Ffolkes said.
International Space Station honorees
Leonie Barden, Steve Balistreri, Amanda Gaddy, Nathan Mauch
Leonie Barden's high level of performance demonstrated with the recent Nitrogen Oxygen Recharge System Vehicular Interface Assembly Bags project landed her on this prestigious list. When nominated, Charles Hardison said Barden was able to solve and effectively mitigate myriad constraints related to this important ISS air revitalization project.
Steve Balistreri, who leads the Environmental Control and Life Support System for ISS, contributed to the timely response of overlapping critical operations. He's being honored for leading the rapid verification testing of the Charcoal High-Efficiency Particulate Filters in response to suspected high benzene readings on the space station.
"My hat is off to the folks who put the event together, and I want to thank them for all of their hard work in making it so special," Balistreri said. "Perhaps what I enjoyed the most was meeting people from across our Space and Launch portfolio. I made new connections, but more importantly, made new friends."
Friends such as Nathan Mauch, whose technical leadership roles as an engineer for the ISS have been instrumental in advancing the success of many projects. Mauch was the design lead for the Capture Latch Assembly on the NASA Docking System Block 1 (Starliner), a primary designer for the CST-100 entry cover, and the design lead for the NASA Docking System Block 2 (beyond Earth orbit) Fluid Transfer Coupling.
Space Launch System honorees
Juan Rodriguez Santiago, Jarrod Hargis, Kyle Gipe, Oliver Duvernay, Janne Catanese
Although the honorees did not get to see Artemis I launch, due to a scrub, they were thrilled to be part of the excitement that day. Juan Rodriguez Santiago played a major part in getting Artemis I to the launch pad. He was recognized for the integration of both planned work and traveled work on the core stage, ensuring a quality product was ready to roll out for the SLS Wet Dress Rehearsal.
Peers of Jarrod Hargis said his program management and technical expertise have been instrumental in the development of the Exploration Upper Stage (EUS) Flight Termination System.
"Receiving the SFA Honoree Award was an amazing surprise and I'm truly grateful for the recognition," Hargis said. "I'm humbled by the work we get to do each day and thankful for my SLS and EUS teammates, without whom this award would not have been possible."
His colleague, Kyle Gipe, was nominated for his contributions to the successful build, test and launch site integration of the SLS Core Stage 1. Gipe's peers also feel that his knowledge transfer for lessons learned to the build of Core Stage 2 and beyond in the factory will ensure continued program success.
So many of the trusted relationships between the SLS team, NASA customer and community are thanks to Oliver Duvernay. His aptitude for finding success in dynamic groups of diverse people and commitment to developing the next generation of rocket builders has made him a human spaceflight leader, both in and outside the walls of NASA's Michoud Assembly Facility in New Orleans.
Janne Catanese's outstanding leadership has helped guide the team through a first delivery, a global pandemic and several major weather events. The nomination for Catanese notes that she has personified the idea that a strong focus on our people who build the hardware will pave the road to our success.
"Your exemplary performance, recognized by this distinguished honor, is essential to NASA's tradition of excellence, safety and mission assurance," Chilton said during the event. "Thank you for your continued commitment to ensuring the success of our nation's space programs."
NASA's Space Flight Awareness Program was created in 1963 as a motivational and recognition program to make sure every person who works in human spaceflight understands the critical nature of their role in keeping astronauts safe. Since then, thousands of people have been awarded for their contributions to countless successful missions between Earth and a destination in space.
"Space programs allow your childhood dreams to become reality," Starliner honoree Gaddy said. "When you win an award for doing something that you love, that's when you know that your life has truly been blessed."