Starliner wins a 2022 Popular Science Best of What's New Award
Out of thousands of products, Starliner is recognized for taking a step toward improving lives, society, and the planet.
November 30, 2022 in Space
Boeing's CST-100 Starliner autonomously docked to the International Space Station, 227 nautical miles (261 miles, or 420 kilometers) above Earth this year. That significant step forward in proving the spacecraft is capable of carrying NASA astronauts landed the Starliner on Popular Science's 2022 Best of What's New list in the Aerospace category.
"The Best of What's New Awards are our way of celebrating the most exciting and groundbreaking innovations of the year," said Rob Verger, Popular Science technology editor. "These awards highlight the revolutionary inventions that are helping to improve our daily lives, our society and our planet."
For more than three decades, Popular Science has chosen the top 100 innovations each year out of thousands of products. Winners represent 10 categories: Aerospace, Automotive, Engineering, Entertainment, Gadgets, Health, Home, Personal Care, Sports & Outdoors, and Emergency Services & Defense.
"From the future of air travel to revolutionary skin care products, and from sustainable outdoors equipment to game-changing gadgets, this year's list is a thrilling mix that we're proud to call the Best of What's New," Verger said.
On May 25, 2022, Starliner landed at White Sands Space Harbor in New Mexico after a six-day journey to the International Space Station. During the demonstration, the spacecraft orbited Earth 94 times, covered a distance of 2,467,406 miles (3,970,905 kilometers) and achieved all flight-test objectives, paving the way for crewed flight. Mark Nappi, vice president and program manager of Boeing's Commercial Crew Program, gave the spacecraft and his team an astounding performance score.
"On a scale of 1 to 10, I would give it a 15," Nappi said. "We wanted to learn, and we did. The team reacted to everything that was thrown at them perfectly. It was a great test flight, and it put us in a great position for the Crew Flight Test."
Boeing is targeting April 2023 for the first crewed flight to the space station with NASA astronauts Barry "Butch" Wilmore and Suni Williams on board. They will live and work on the orbiting laboratory for approximately eight days.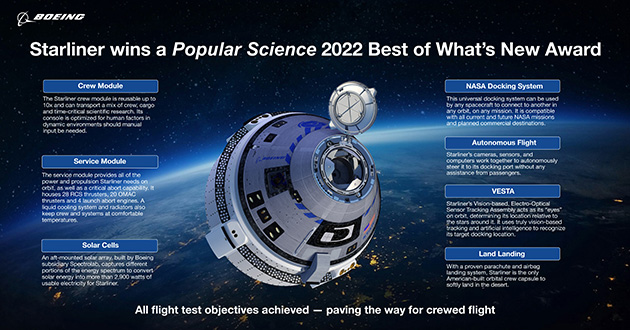 This is the second time a Boeing Space and Launch product has made the Best of What's New list. In 2017, the spacesuits, which will be worn by astronauts on Starliner's Crew Flight Test next year, also received the honor.