Bionics allow teammates to suit up for safety
Exoskeleton vest reduces strains and sprains while increasing quality
January 05, 2022 in Innovation, Technology
Jason Hill, a Boeing Salt Lake airplane mechanic by day and avid hockey player in his off-hours, truly appreciates the protection the right safety gear provides both on the job and in the rink.
"I suit up for hockey. I wear my helmet. I wear all my pads so that I don't get injured," said Hill. "And I do the same thing when I come to Boeing."
Sanding, sealing and painting the 787 Dreamliner horizontal stabilizer requires Hill to spend significant time working with his arms stretched above his head — work that once put additional strain on his shoulders, forearms and elbows.
Thanks to a new bionic exoskeleton vest, Hill and teammates at locations across Boeing are getting a welcome boost when performing prolonged overhead work.
In Boeing's commercial division, the exoskeleton vest is in use or planned for use as personal protective equipment in the 737, 767, 777 and 787 Dreamliner programs. As for the company's defense products, the device will assist team members working on vertical lift aircraft including the V-22 and H-47 and fighter jets including the F-15 and F/A-18, as well as P-8 maritime patrol aircraft, MQ-25 unmanned aerial refueling systems and VC-25B presidential aircraft (Air Force One).
Teams at a number of Boeing sites have tested the vest since 2018. It is rolling out as an innovative enterprise standard tool designed to lessen the pressure mechanics bear as they work repetitive jobs at chest level and above.
"It feels like someone's behind me holding up my arms," said Miles Flynt, a Boeing South Carolina mechanic.
"When you activate the vest, it's somewhere between 5 to 18 pounds (2 to 8 kilograms) offloaded from the wearer," said Dr. Christopher Reid, a Boeing engineer and Associate Technical Fellow who specializes in ergonomics and wearable technology. "It reduces the stress on the shoulders and ultimately reduces injuries."
Resembling a high-tech comic book character's armor, the spring-based mechanism is worn much like a backpack. It employs a system of straps and mechanical arms, supporting users' shoulders as they perform overhead work such as drilling.
"The first time wearing it, I felt kind of silly," said 767 mechanic Jacob Case, who likened the device to something straight out of science fiction. "But I noticed my hands and arms being above my head not feeling so heavy, and I really noticed a big difference in my shoulder blades.
"By the end of the work day, I noticed that it reduced the amount of fatigue for sure."
Futuristic as it may seem, the vest is positively affecting safety today.
"Where else can you make world-class aerospace products and feel like a superhero at the same time?" said Paul Wright from Boeing's Chief Aerospace Safety Office. "These vests keep our teammates injury-free and allow them to go home feeling great. Many areas that have implemented them continue to see zero injuries a year later."
Though deployed earlier this year, exoskeleton technology has been evaluated and tested for several years with Boeing Research & Technology and Environment, Health & Safety.
Exoskeleton Evolution
What's now. What's next?
A conversation with Dr. Christopher Reid, Boeing Environment, Health & Safety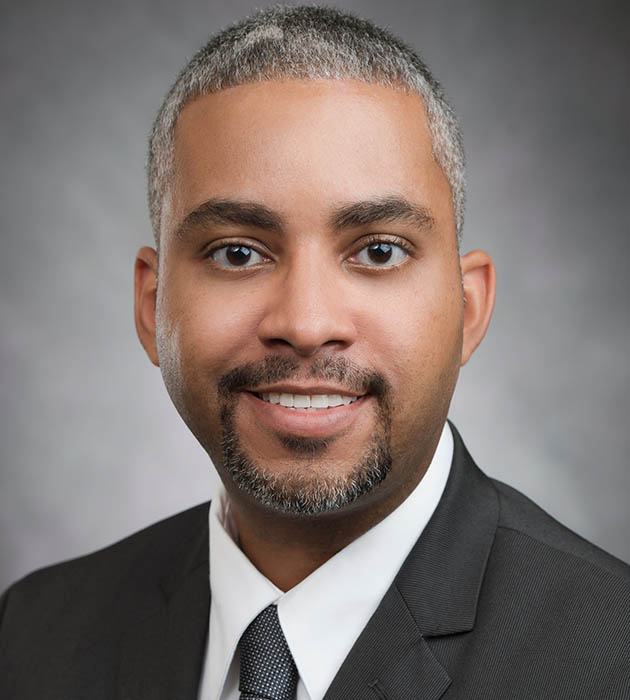 PHOTO: BOEING
IQ: What's the current state of exoskeleton technology at Boeing?
CR: Exoskeletons are being deployed as new, required ergonomics personal protective equipment to manufacturing and service jobs that include two hours or more of overhead work. The enterprise exoskeleton numbers have more than doubled since 2020. This growth will continue into 2022 until a natural capacity is reached.
IQ: What types of devices are in use?
CR: Boeing team members benefit from both powered and unpowered (mechanical) exoskeletons for different needs. Postural support exoskeletons were first, such as the shoulder exoskeletons. Ergonomics shoulder injuries are some of the most severe and common across the production workforce.
IQ: What future devices are in work?
CR: Back exoskeleton postural support units are next as well as hand exoskeletons to support prolonged and repeated gripping. And to help mitigate manual material handling cases involving lifting and carrying or pushing and pulling, full body-based, powered exoskeleton units are possible.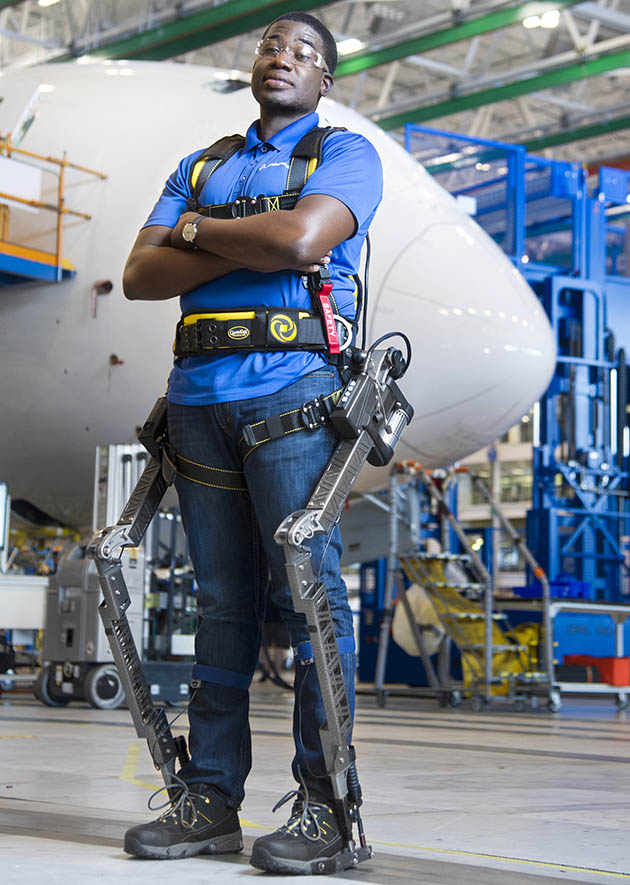 PROTOTYPICAL: Boeing human factors and ergonomics engineer Kadon Kyte tests prototypes to qualify those that make sense for deployment and scaling. (Photo taken before Boeing implemented COVID-19 pandemic safeguards.)
PHOTO: ALAN MARTS/BOEING
IQ: What parts of the body most benefit?
CR: Hinges or joints are typically the weakest parts of any structure, as constant use breaks them down over time. Ergonomics-based injuries show up in shoulders, backs, knees and wrists.
IQ: How about ongoing research in the exoskeleton landscape?
CR: The goal is more useful, usable and desirable products. Exoskeletons are becoming lighter, slimmer and smarter. Much of the work is moving towards intelligent systems that can detect when to support and when not to support, to be the most unobtrusive systems to wear and use. Additional research is leading to standards development so the technology doesn't outpace sustainable standards to aid in safe and effective system development.
---